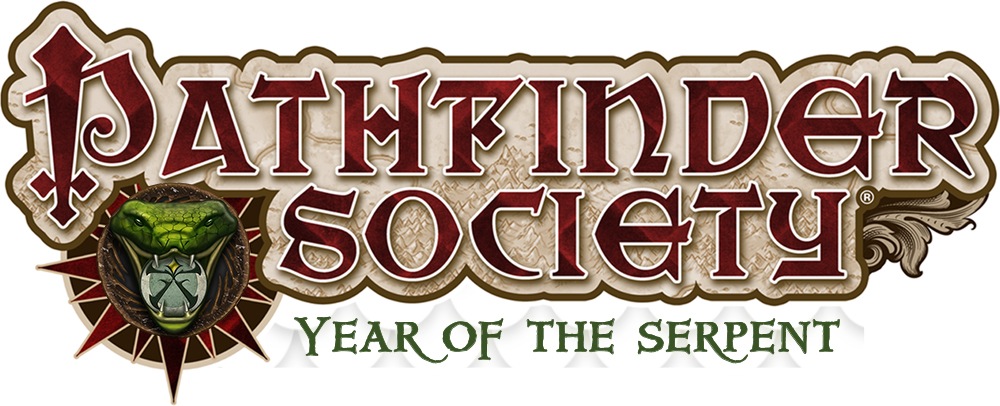 What: PbP Gameday IV: Rise of the Siege of Serpents
When: September 19th, 2015 through December 20th, 2015
Product support submission deadline: August 31st, 2015 @ 12 PM CDT US [UTC-5]
Pathfinder Season 7, Year of the Serpent, is nigh and it's once again time for a Play-by-Post Gameday – so we are seeing off Season 6 with a bang.
We will be running the Season 6 Finale Exclusive, Serpent's Rise – and the Season 6 Finale Multi-Table Special, Siege of Serpents.  (These have, previously, only been run at PaizoCon 2015.)
The Gameday will run from September 19th, 2015 through December 20th, 2015, and will be broken up into two "slots" for the Exclusive and Special – and each slot will be 45 days in length.
Slot A: PFS 6-98 – Serpent's Rise [September 19th, 2015 to November 3rd, 2015]
A Pathfinder Society Scenario designed for 7th-level pregenerated characters.
Years of political maneuvering, espionage, smuggling, and diplomacy have set the stage for the Aspis Consortium's most ambitious attack on their Inner Sea rivals: the Pathfinder Society. All that remains are several key preparations that only an elite team of Aspis agents can arrange, and once the fireworks begin, these same agents must strike quickly and mercilessly to secure objectives—some shared and some connected to deeper plots—and escape without the Society being any the wiser.
In this adventure the players portray agents of the Aspis Consortium using 7th-level pregenerated characters. The events in this story also connect to and expand upon those in "Siege of Serpents".  GMs must be a 4-Star, or 5-Star, GM to run this exclusive.
Written by John Compton.
Slot B: PFS 6-97 – Siege of Serpents [November 5th, 2015 to December 20th, 2015]
A Pathfinder Society Scenario designed for levels 1–11.
The Pathfinder Society has opened its gates to visitors from across the world in anticipation of the Grand Convocation, a magnificent festival in which Pathfinders share tales of their exploits, show off their findings, and celebrate the Society's accomplishments. However, an inopportune accident quickly spirals out of control when an old enemy attempts a brazen assault on the Pathfinders' home, and an unexpected foe emerges from hiding to seek vengeance for the Society's perceived crimes. Can the Pathfinders pacify the chaos and protect their guests while simultaneously defending the Grand Lodge?
"Siege of Serpents" is a multi-table interactive adventure in which each group's actions contribute to the entire room's success.
Written by Jim Groves.
** Important GM Note For the Special and Exclusive: **
GMs running the Exclusive and/or the Special may only run one table of the Exclusive and one table of the Special.  (GMs cannot run concurrent tables of the Special or Exclusive.)
---
GMs may run regular scenarios as they like during the gameday – the two defined slots only apply to the Special and Exclusive.
The Game submission form can be found here:
http://www.ironhelixx.com/pbpgameday4/gamesubmission.html
---
Session list for Player signups:
http://www.ironhelixx.com/pbpgameday4/
---
Contest: Best G.I. Joe inspired Character for Year of the Serpent
Contest Rules:
Must be a Joe, no Cobra
Must be PFS legal
Must be lvl 1 with a character progression through lvl 4
Must have, at least, ranks in two Knowledge skills in the progression that tie into the PC's theme – because "Knowing is half the Battle"  🙂
Only Players and GMs participating in PbP Gameday IV can participate in the contest.
PC submissions will be judged and the top three winners will get a Gift Card for Paizo.com.
Joe inspired PC submissions will start on September 19th and will close on November 3rd, 2015 @ 12 PM EDT [UTC-4]
Winners will be announced on November 5th, 2015 @ 12 PM EDT [UTC-4].
A web form will be opened for PC submission on September 19th, 2015.
You can submit up to three Joes for the contest.  Additional rules and details to come.
A list of Joes can be found here: WikiPedia
For Question and Discussion please see the Forums below:
---
FAQ:
Will There be Boon/Prize Support?
Yes, there will.
How/When will boons be provided?
Boons will be sent out to GMs and players as the games are submitted for reporting to the Online VOs.
GMs will each get one GM specific boon for running during the game day.  (One GM Boon limit per GM)
Both players and GMs will then be able to win additional player boons at each table they are involved in.
GMs will roll for the entire table at the end of the session:
[b]Boon Rolls:[/b]
[dice=GM]1d20[/dice]
[dice=Sally]1d20[/dice]
[dice=Bob]1d20[/dice]
[dice=Sue]1d20[/dice]
[dice=Frank]1d20[/dice]
[i]Boon of players choice on a natural roll of 1 or 20[/i]
[i]**Re-Rolls not allowed on boons**[/i]
The exact boons that can be won by players will be provided to GMs before the start of the gameday, and will be posted here on this blog.
Will GMs get the PDF for scenarios they run added to their Paizo account?
Yes – assuming we breach the 15 table limit mentioned above.
Games submitted by August 23rd, 2015 @ 8 PM EDT US [UTC-4] will have the scenarios added to their accounts (limit 3 scenarios per GM).  This only applies to regular PFS scenarios, not APs or Modules.
I have the scenarios / modules I signed up to GM. May I get store credit instead?
No, you will only receive product support for the games you sign-up to run for the gameday.
Can a GM run more than one PbP table?
For regular scenarios, Yes – but we ask that you not have more than 3 concurrent games.  SPECIAL NOTE: For the Special and Exclusive, GMs are allowed to only run one table of each.
Can I play the same PC in multiple PbP games at the same time?
No – You can only have any given PC active in one game at at time.
Can we both GM and Play?
Absolutely.
Do PbP games for the Game Day have to run only on the Paizo forums?
Absolutely not. Whatever PbP forum you choose is perfectly fine.
Can I participate in this gameday by continuing with my current game?
No, this gameday is for games being organized for the Gameday.  Only games registered for the gameday, and starting/ending between the dates above, will be eligible.
I would like to GM for a private group as part of the Gameday – is this OK?
Yes. The caveat being that you must still submit your game to the VO form and must report your game through the VOs like the public games.
Will there be any way to know which website the public PbP games are hosted on?
Yes. As GMs submit their games to us we will list them here: http://www.ironhelixx.com/pbpgameday4/
Can I run Bonekeep?
Not at this time. Due to it's special nature, Campaign Leadership has not approved it for PbP Online Play.
Will there be a set of guidelines provided for GMs/Players to follow during the gameday?
There will be some suggested guidelines provided to GMs closer to the gameday.
If my game finishes faster than I planned, can I run another game?
Absolutely. If you have enough time to finish before the deadline, please fell free to start additional games if you like.  Make sure you still submit the game to the VO game registry.  Also keep in mind that we will not be able to provide free PDFs for games submitted after August 23rd, 2015 @ 8 PM EDT US [UTC-4].
Can a VTT be used during the PbP gameday?
Absolutely.  A VTT can be used for mapping and for text chat, but audio/video should not be used for game-play during the PbP gameday when using VTTs.  Otherwise, VTTs are a great way to map and text chat during the PbP Gameday so feel free to use those features.  Please be cognizant of using any tools that would require anyone to spend money, or require too much technical skill, to use during the gameday as this could limit participation.
If you have any questions or concerns please email the Online Venture Officers @ PFSOnlineVOs@gmail.com